Shanley Pump and Equipment carries the Liberty Process Equipment brands of Aftermarket Progressive Cavity Pump Parts for the most popular brands of PC Pumps today. Liberty Process Equipment began as a supplier of quality aftermarket replacement progressive cavity pumps, pump parts and pumping solutions.
For over a decade, customers that have utilized Liberty Process Equipment have had the benefits of a quality product that is a direct replacement part for their popular brands of pumps that's in stock and ready to ship same day for considerably lower cost than the OEM's charge.
Shanley Pump and Equipment Carries the following pumps and pump parts for immediate shipment to your location from Liberty Process Equipment:
Progressive Cavity Pump Rotors in Chrome Plated Tool Steel and in Chrome Plated 316 Stainless Steel
Progressive Cavity Pump Stators in Buna Nitrile, Viton, EPDM and PTFE
Progressive Cavity Pump Seals and Seal kits
Progressive Cavity Pump Connecting Rods
Cavity Pump Replacement Drive Assemblies
Progressive Cavity Pump Motors and Bases
Liberty Process Equipment offers in stock replacement progressive cavity pump parts from the Victory Pump Parts line to fit Seepex® brand Series BN and MD series Progressing Cavity Pumps.
We have many of the most popular available sizes of rotors, stators, coupling rods, joint kits, seals, and other spares for all your specific pumping applications.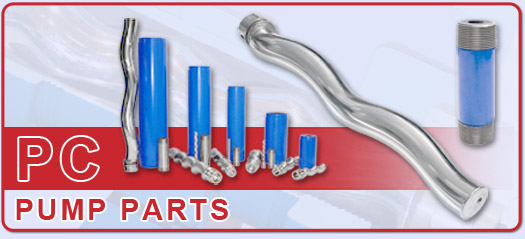 Shanley Pump and Equipment also carries replacement progressive cavity pumps and pump parts for other leading brands including Roper®, and Monoflo® brand progressive cavity pumps.
Aftermarket Pumps and Pump Parts