The Centurion Series of Thermal Fluid Transfer Centrifugal Pumps from Iron Duke represents a new approach to the thermal transfer pumping market. Thermal Fluid Transfer Pumps remain a considerable investment in your facility due to the very demanding operational requirements they are subjected to, a reliable pump like the Centurion is critical.
The Centurion series of 22 sizes of centrifugal thermal fluid pumps represent a highly effective, low-costing self-cooling centrifugal pump for thermal transfer fluids such oils and other thermo conductive pumping media. The Centurion Series operates at typical production flow ranges up to 1,600 GPM at head pressures up to 550 feet TDH (Total Dynamic head) with a maximum operational temperature of 660°F under its air-cooled design.
The Centurion Series volute casing and other areas of fluid contact are constructed of heavy duty ductile iron or optional carbon or stainless steel. The bearing housing is of cast iron and the internal shaft and impeller are of high grade 316 and 420 stainless steel for durability and corrosion resistance.
Integral cast thermal-heat dispersion fins are cast directly into the bearing housing to assist in cooling during operation. This special design feature will help keep low operational temperatures in the Bearing and pump seal areas, greatly extending the operational life of the pump.
The outer components form a centrifugal pump that is of standard back-pullout design for easy installation and maintenance allowing you to performa maintenance such as bearing replacement without having to remove the pump from the discharge and suction piping attachments. Discharge and intake flanges are offered in AANSI dimensions. Flange ratings are 150# standard and #300 optional.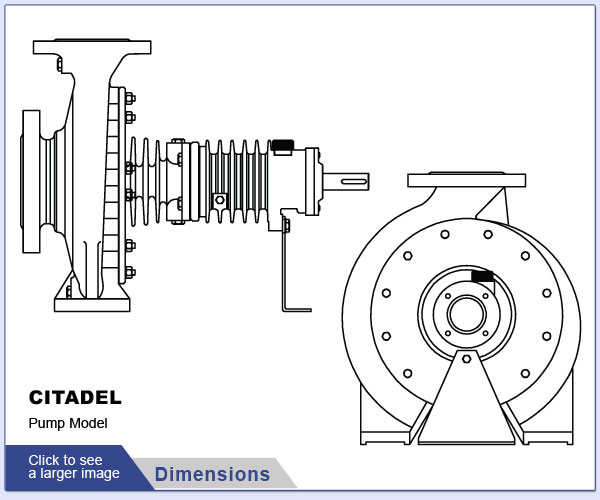 Internally, the Centurion comes standard with a Silicone Carbide/carbon/viton mechanical seal with radial shaft seal options available. The 420 stainless steel pump shaft rotates on heavy-duty oil-lubricated bearings.
The closed-impeller design is fully balanced before installation for optimum performance at high RPM's, preventing possible deflection damage to the shaft and seal. Back Ribs on the impeller reduce seal pressure and extend seal life. For Vegetable-Oil applications we can provide an intermediate element under vacuum, eliminating the need for costly double or metal bellow mechanical seals.
When you add all of these elements together you wind up with the Iron Duke Centurion Series of highly durable low-costing thermal fluid pump that's available today from Shanley Pump and Equipment, Inc.
Iron Duke pump lines incorporate all the best features from other leading manufacturers without the leading manufacturer price bringing you the best of both worlds, performance and affordability!
Contact Shanley Pump today for more information about the Iron Duke Centurion Line of Thermal Fluid Transfer Centrifugal Pumps.
Iron Duke Pump Series quick links
Centurion Thermal Fluid Transfer Pump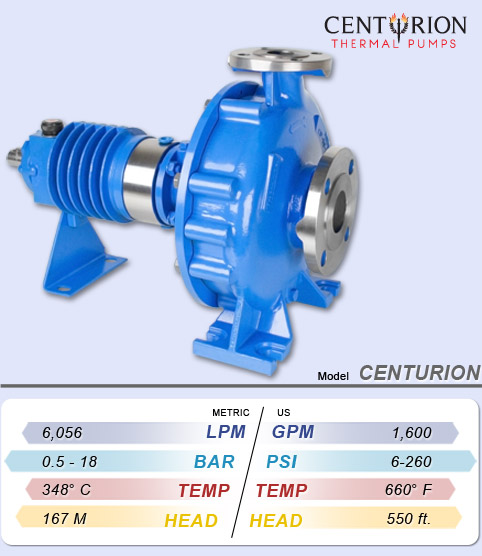 Series Pump Type
Centrifugal Thermal Fluid Transfer Pump
Single Stage Thermal Fluid Pump
Mechanical Seal Centrifugal Thermal Fluid Pump
Series Materials
Cast Iron
316 Stainless Steel
Series Industries
Metal Hardening and Tempering Industry
Thermal Fluid Transfer Pumping Industry
Steel Manufacturing Industry Pumping
Plant Engineering Industrial Pumping
Series Applications
Heat-Transfer Pumping Applications
Thermal Oil Pumping Applications
Cooling Systems Pumping Applications

Learn about our Iconology here.