The EDUR NUB all-purpose, compact, single-stage process pump and is ideal for your facility for standard pumping applications of clear or slightly polluted liquids.
Applications for pumping including cooling and refrigeration technology, air-conditioning, filtration, plastics processing and general machine engineering all are ideal candidates for the EDUR NUB Series Centrifugal Pump.
What makes the EDUR
NUB

line so unique?
Diffuser blades neutralize the radial shaft forces
Low velocities of flow and low velocity head differences
Single or double acting mechanical seals
Capability of transporting gases in the liquid
Easy maintenance by means of pull-back-design
Direct installation in stable pipe lines or cantilever mounting
Any fitting position
Materials gray cast iron or bronze
The NUB Series is well suited for your pumping needs in the Shipbuilding and apparatus engineering because of its minimal footprint.
The Pump can be supplied with either single or double acting Mechanical Seals. The EDUR Pump has a unique open impeller design. Fully Immersible designs of the NUB series are available as well, please ask your sales engineer for more information for this option. Closed Impellers are also available.
The special design of the EDUR NUB Series can also handle small quantities of gases in the pumped liquid mediums without causing cavitation difficulties. The EDUR NUB Series operates at differential pressures up to 145 PSI at a temperature range of -40°F to +284°F with a Viscosity of 115 centistokes at a series maximum flow rate of 1,541 GPM.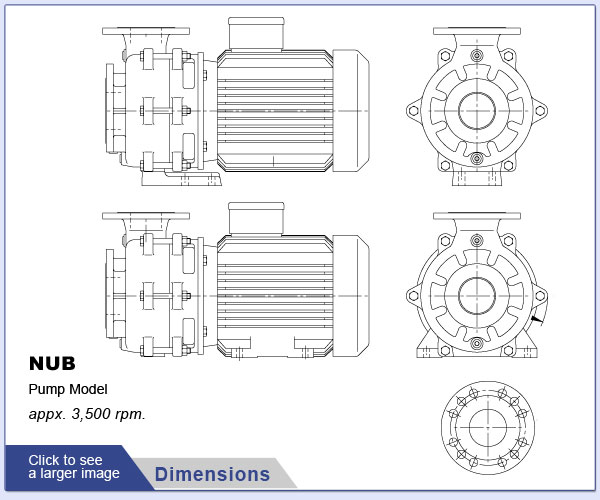 The EDUR NUB Series componentry is made from Cast Iron, Bronze, Stainless Steel, and Super Duplex Stainless Steel depending upon your pumping medium application. Shanley Pump and Equipment, Inc. carries a stock of these pumps and pump parts for immediate delivery.
If you have any questions about the EDUR NUB Series Compact Close Coupled general purpose centrifugal pump please feel free to contact a Shanley Pump representative. We'll be glad to answer any questions you have.
EDUR Pump Series quick links
EDUR NUB Series General Purpose Centrifugal Pump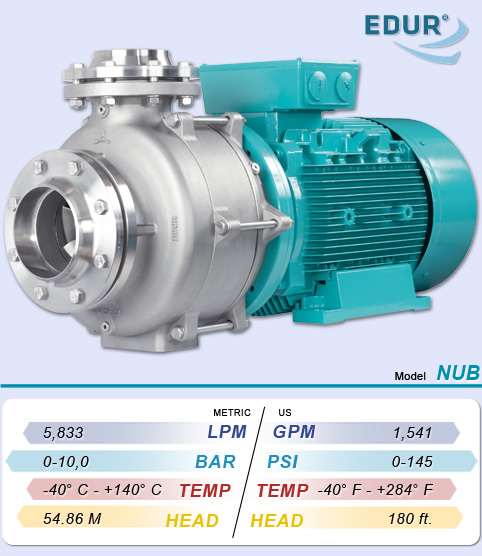 EDUR NUB Series Pump Type
Centrifugal Pump
Multi-Stage Centrifugal Pump
Clockwise Impeller Rotation
Optional Single Mechanical Pump Seal
Optional Double Mechanical Pump Seal
Horizontal Pump Mounting
EDUR NUB Series Materials
316 Stainless Steel
Steel Pump Components
EDUR NUB Series Industries
Pump Cooling Systems
Air Conditioning
Filtration Industries
Plastics Processing and Manufacturing
General Purpose Pumping
EDUR NUB Series Applications
Cooling Systems
Filtration Systems
Recirculation Systems
Clear Liquids Pumping
Slightly Polluted Liquids

Learn about our Iconology here.