The OSNA MKH Series of High Pressure Multistage Centrifugal Pumps are high-efficiency industrial pumps that are designed for low noise and high strength in addition to their superior high pressure pumping performance.
The OSNA MKH (Horizontal) Series of High Pressure Centrifugal Pumps primary capabilities lie in the pumping of clear and slightly contaminated liquids. These Liquids include Fresh water such as well water, drinking water, boiler feed water for industrial use, process water for cooling, sea and brackish water, hot water, condensate retention and reclamation, lyes for chemical manufacturing processes and more.
The OSNA MKH Pumps performance is up to 4,840 GPM (Gallons Per Minute) at 3,500 RPM with fluids at temperatures up to 284°F at 580 PSI with 2,100 Ft. of Head.
For sealing options, the OSNA MKH series of High Pressure Non Self-Priming Centrifugal Circulation Pumps are either furnished with gland packing or mechanical seals.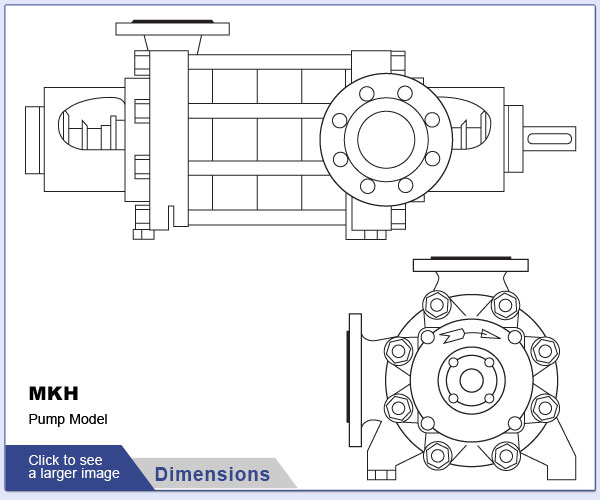 The OSNA MKH Series will also perform well as a boiler feed pump or in a boiler feed booster system. Maintenance is easy for the MKH series with its Modular construction. Exchangeable pump shaft sleeves are just one of the many features OSNA has thought of for ease of use in the MKH series.
The pump casing of the OSNA MKH Series is available depending upon your requests or chemical types in either cast iron or cast stainless steel for added strength and chemical resistance's.
Contact Shanley Pump and Equipment Today for more information about the OSNA MKH Series of High Pressure Multistage Centrifugal Pumps for clear and slightly contaminated liquids.
OSNA Pump Series quick links
OSNA High Pressure Multistage Pump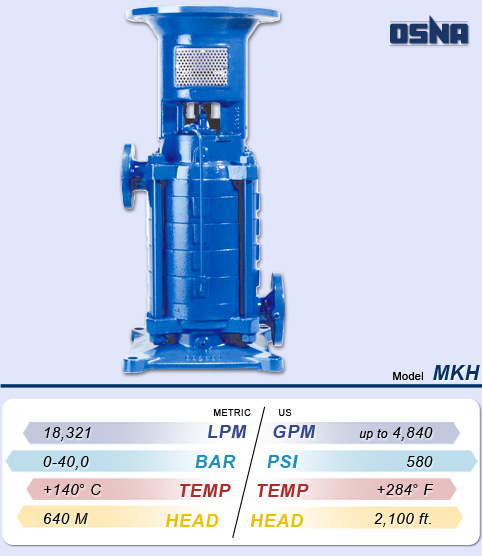 OSNA MKH Series Pump Type
Centrifugal Pump
Multistage Pump
Horizontal Pump Mounting
OSNA MKH Series Materials
316 Stainless Steel
Cast Iron
OSNA MKH Series Industries
Slightly Polluted Industrial Liquids Pumping
Energy Generation Industrial Pumping
Process Technology Industrial Pumping
Plant Engineering Industrial Pumping
OSNA MKH Series Applications
Boiler Feed Pumping Applications
Filtration System Pumping Applications
Brackish Water Pumping Applications

Learn about our Iconology here.