During operation, all pumps withstand vibrations caused by the revolutions of the pumping mechanism. As a result, as time goes by slight deficiencies occur due to the heavy rotational forces being used on the pumping mechanism. Keeping these units perfectly aligned can mean the difference between optimal pump longevity and thousands of dollars in down time for repairs.
Pump alignment means that the centerline of the pump is aligned with the centerline of the driver. Although this alignment was always a consideration with packed pumps, it is critical with sealed pumps especially if you are using rotating seal designs where the springs or bellows rotates with the shaft.
Misalignment will cause many problems:
Packing could support a misaligned shaft. A mechanical seal cannot.
Misalignment will cause severe shaft or sleeve fretting if you use spring loaded Teflon® as a secondary seal in your mechanical seal design.
The pump bearings can become overloaded.
The misalignment could be severe enough to cause contact between stationary and rotating seal components:
The wear rings can contact.
The shaft can contact the restriction bushing often found at the end of the stuffing box.
The shaft or sleeve can contact the stationery face of the mechanical seal.
The shaft can contact the disaster bushing in an API (American Petroleum Institute) gland.
The impeller could contact the volute or back plate.
Pump Alignment Services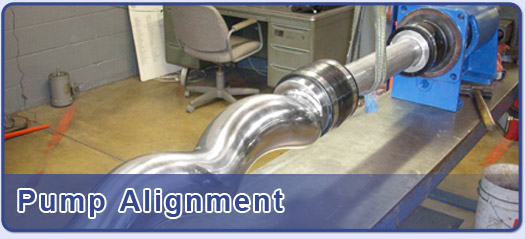 If you currently own pumping systems that are in need of maintenance, why not give us a call. We have representatives throughout the USA and Canada that can not only repair or refurbish your current system, but also ensure that the pump has been properly aligned.
All pumps leaving Shanley Pump that are sold as packages come with alignment already done as well as hydrostatic tests on flow and operability. Laser Pump alignment is available as well for those customers who require the tightest of tolerances for your pumps installation.
If you have any questions about our services, please feel free to call us or send us an email! We look forward to hearing from you.