Allweiler

®

Three Rotor Screw Pumps
Allweiler® Three-Rotor Screw Pumps
The Screw pump is one of the oldest and most useful of all pump designs. And whereas there are a myriad of other pump styles to fit almost every need, a screw pump handles special applications like no other. This is due to the pumps unique and highly efficient design which utilizes either a two or three rotor design for its use in pumping.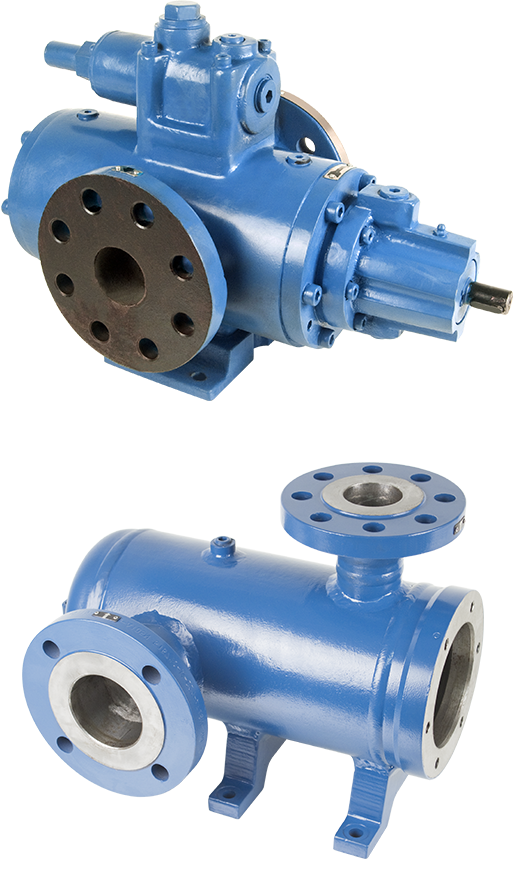 Pumping Applications
Lubricating Fluids
Lube Oils
Fuel Oils
Hydraulic Oils
Cutting Oils, etc.
How It Works
Three rotor designs utilize one power rotor and two drive rotors which spin inside the casing creating a rolling motion. This motion between the rotors and the fluid being pumped creates a barrier separating the rotors from contact and friction.
This action creates a seal inside the unit that prevents metal to metal contact while efficiently moving the medium being pumped at high pressure and especially with low viscosity fluids. We stock and supply multiple Screw Pumps and accessories for use in any environment and with any fluid.
Ask Us
If you have any questions about how the *Allweiler® Screw Pumps could be of benefit to your company, please feel free to contact us at 847-439-9200 or feel free to Email us.
We have a complete workshop with skilled pump technicians with years of experience working on Allweiler® Pumps. We are happy to inspect your pump and give you a repair price quotation. all our pump repairs are provided with a full warranty.
Allweiler® Three Rotor Screw Pump Series Type



Three Screw Pump
Mechanical Pump Seal
Horizontal Pump Mounting
Allweiler® Three Rotor Screw Pump Series Materials


316 Stainless Steel
Cast Iron
Allweiler® Three Rotor Screw Pump Series Industries




Oil Industry Pumping
Plant Engineering Pumping
High Viscosity Fluids Pumping
Steel Industry Pumping
Allweiler® Three Rotor Screw Pump Series Applications





High Pressure Pumping Applications
Lubrication Systems Pumping Applications
Hydraulic Systems Pumping Applications
Fuel Oils Pumping Applications
Lubrication Oils Pumping Applications