The Usher™ Low-Cost Professional Portable Brewery Transfer Pump System
The Usher™ Centrifugal Stainless Steel Brewery Transfer Pump System from Shanley Pump and Equipment represents our entry-level transfer pump system for small-production scale Breweries, Microbreweries and Beverage manufacturers.

The Usher™ Brewery Transfer Pump Cart begins with a Shanley Stainless Steel centrifugal pump with four separate models to choose from with flows ranging up to 500 GPM. The Clamp Head design of the pump allows for full 360° outlet rotation allowing for less movement of the pump once you have begun your transfer operations.
The pump comes standard with a four-bladed investment cast stainless steel sanitary impeller specially designed to gently transfer your product with minimal shear damage and delivering a smooth, steady flow.
The Usher™ pump casing is manufactured from sanitary 316 Stainless steel polished to a sanitary finish for easy cleaning after use. Pump backplates incorporate a ceramic wear ring to reduce replacement costs. Pump seals are available in both external, internal and double mechanical.
The standard seal for the pump is carbon/ceramic. The Pumps O-Ring is available in a variety of elastomers depending upon your application requirements.
The Usher™ is then mounted to a portable wheeled frame assembly for easy movement through, up and over the limited spaces of a modern brewery. The Frame is available in both standard powdercoated tubular steel or sanitary stainless steel. Customisable frame assemblies are available.
Just what is customisable in The Usher™ system?
Pump Motor
CIP Connections
Power Cord/Supply
Electronic Controllers
Power Cord Length
Color of System/Cart
Discharge Outlet
Suction Inlet
Options available for whatever you require
A Pump Cart Customisable to YOUR Requirements!
The Usher™ represent true customizations for your requirements with a variety of speed controllers, flow measurement and other electronics available depending upon your requirements.
Previous Usher™ Systems sold have incorporated everything from simple "plug-and-go" motor connections to fully customized systems painted to a particular breweries logo and paint color's. The usher is designed to be not only functional but visually aesthetic as well.
Power supplies for the Usher as mentioned can span from simple plug systems to fully designed and incorporated electronic controls. Motor options for the pump are fitted based upon customer requirements.
Pump attachments including CIP, Tri-Clamp, Bevel Seat, NPT, and Weld are available as well.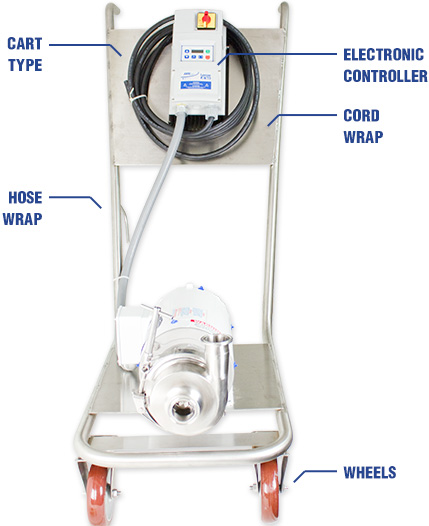 Downloadable Pump Quote Forms
Click here to download our faxable Pump Cart Request form.
Contact Us
Contact Shanley Pump and Equipment today with your requirements and we'll be glad to have our sales engineers design and build not only the best pump, but also the RIGHT pump for you and your Brewery or Beverage production facility.
If you have any questions about our services, please feel free to call us at 847-439-9200 or send us an email! We look forward to hearing from you.