Gas & Liquid Mixture Pumps
Gas & Liquid Mixture Pumps are becoming the solution in today's manufacturing industries. The ability to mix via a special impeller design an amount of gas for suspension in liquid has revolutionized many industries including wastewater, food sanitization and solids separation technologies.
In a great number of engineered applications today, varying mixes of liquids and gases may occur and must be moved efficiently and with the proper mix ratios. Shanley Pump and Equipment, Inc. carries a full line of reliable and cost-efficient multiphase Gas & Liquid Mixture Pumps from EDUR, manufactured in Germany, that reliably entrain gases into liquids without the need for old, inefficient technology of compressors, tanks, and air controls.
Generally liquids have to be pre-charged with gases involving the use of compressors and storage tanks before a suitable mix can be achieved. Gases such as oxygen, nitrogen, ozone, CO2, hydrogen, and more can now be controlled and reliably mixed at your facility with less need for other equipment.
Under conditions of mixing gases and liquids, ordinary non-self priming centrifugal pumps designs will not allow reliable operation. Such failures basically have their roots in the impeller design. With increasing gas content, more and more stationary gas is created at the center of the impeller. This finally blocks the impeller entry of liquid and interrupts the supply output. Even with slight gas content, the characteristic curve is no longer stable. EDUR Pumps have unique Impellers for Gas-Liquid mixtures.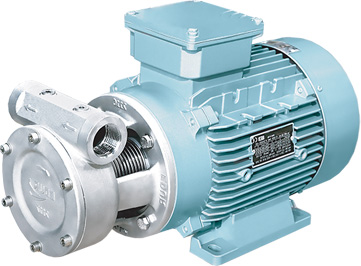 Therefore, standard centrifugal pumps are not suitable for such difficult working conditions. Today's factory operations call for increased reliability and trouble-free pump operation for longer periods between maintenance and that is where a reliable Air-Gas Mixture pump from EDUR with their unique Gas-Liquid impeller design can make your pump needs a reality.
If you have any questions about our Gas & Liquid Mixture Pumps or any of our other services and pumps, please feel free to call us at 847-439-9200 or send us an email! We look forward to hearing from you.
*Shanley Pump Group is not affiliated with nor distributor for Seepex®, Allweiler®, Moyno®, Tarby®, Netzsch®, or Continental Inc.® all referenced product names, brands, models, or part numbers is solely for identification purposes. Seepex® is a registered trademark of Seepex®. Moyno® and Tarby® are registered trademarks of Robins and Myers® and NOV®, Netzsch® Incorporated is a registered trademark of the Netzsch® Group, Allweiler® is a registered trademark of Colfax® Corporations Continental® Pumps is a Trademark of Continental® Ultra Pumps.