Speck Centrifugal Thermal Oil Pump Applications
Speck Centrifugal Heat Transfer Pumps are designed for the transport and re circulation of organic heat transfer oils for removing thermal buildup by mineral and/or synthetic basis oils for applications throughout the word such as baking ovens, large frying units, the plastics and die casting industry as well as the heating of agitators in the paint and dye industry as well as the asphalt industry.
The robust design and construction of SPECK pumps is due to extensive research and development programs resulting in rigorous quality control systems that begins at their manufacturing facility. ISO:9001 requirements are met throughout the entire manufacturing process resulting in a superior heat transfer centrifugal pump that covers many spectrums of industrial use.








Industrial Applications
Heating Tank Mixing Pumps
Thermal Recirculation System Pumps
Heat Exchanger Pumping Systems
Thermal Oil Pump Systems
Thermal Fluid Pump Systems
Baking Industry Hot Oil Pumps
Frying Foodstuffs Industry Pumps
Leather and Rubber Manufacturing Pumps
Paint and Lacquer Manufacturing Pumps
The SPECK pumps design allows handling of heated mineral such as synthetic oils in heat transfer plant. The pumped fluids must not chemically attack the pump materials nor contain any abrasive particles in suspension or damages to the pump may occur.
SPECK pumps work well in the solar-power industry as well as flat-glass production and come with a distortion-resistant casing cover with cast integral fins to radiate heat.
Speck Pumps offer great interchangeability of pumps and parts across several pump series meaning that even if a part needs to be repaired, stock parts from Shanley Pump and Equipment can ship the same day to your location.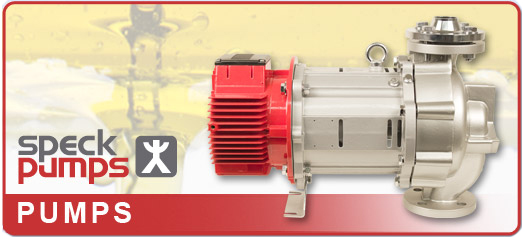 If you have any questions about our services, please feel free to call us at 847-439-9200 or send us an email! We look forward to hearing from you.