The XChange™ Brewery and Beverage Transfer Pump Cart
Brewery Transfer Pump Carts are not all built the same. The XChange™ Centrifugal Stainless Steel Hilge Brewery Transfer Pump System represents our professional grade transfer pump system for high-production scale Breweries, Microbreweries and Beverage manufacturers.

The heart of the XChange™ Brewery Transfer Pump Cart begins with a Hilge Stainless Steel centrifugal pump. Hilge sanitary stainless steel pumps are known throughout the brewing and beverage world as some of if not the best pumps available for the pumping and transfer of your beverages.
Since 1867, Hilge pumps have manufactured in Mainz, Germany to exact specifications and materials. Their popularity over these 150 years and durability is such that all German breweries use Hilge pumps for beer manufacturing. Quality Brew masters use Hilge, so should you!
We carry many Hilge Sanitary Pump models with multiple available flowrates up to 1,000 GPM available to help you achieve the best possible required flow rate for your application. Simply let us know the capabilities or operating conditions you require and we'll be glad to select the optimal pump for your required beverage transfer applications.
We begin selecting with the frame cart assembly. Pump Frame Carts are available in either welded stainless steel or standard tubular steel. Custom painted enamel coatings in the color of your company's logo are available as well.
After you select your frame cartthen comes the Pump and controller units such as timers or flow control units. Let us know what you need to do and we'll put together the optimal package for a portable pumping system without a custom price. Power supplies for the XChange™ can span from simple 110v plug-and-go systems to fully designed and incorporated electronic flow and pump controls.
Motor options for the pump are fitted based upon customer requirements and selected pump. Standard pump connectors are Tri-Clamp. Other types are available upon request. CIP Drain connection is also available.
Customisable Heavy-Duty Beverage Transfer Pump Cart
The selected Hilge pump is then mounted to the XChange™ portable wheeled frame assembly for easy movement through the limited spaces of a modern brewery or beverage making facility. Power supplies for the Usher as mentioned can span from simple plug-in systems to fully designed and incorporated electronic controls. Motor options for the pump are fitted based upon customer requirements.
Contact Shanley Pump and Equipment today with your requirements and we'll be glad to have our sales engineers design and build not only the best portable beverage transfer pump system, but also the RIGHT system for you and your Brewery or Beverage production facility. Our engineers will work with you to develop the beverage pumping solution you require, the one that you need and the one that is custom designed to your applications.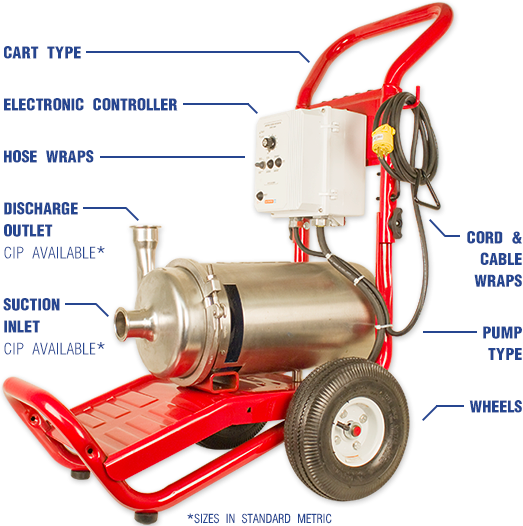 Download XChange Portable Beverage Cart Request Form
Click here to download our faxable Pump Cart Request form.
If you have any questions about our services, please feel free to call us at 847-439-9200 or send us an email! We look forward to hearing from you.