Shanley SEP Heavy Duty Progressive Cavity Pumps

The Shanley SEP Progressive Cavity Pump is an extremely versatile positive displacement pump with a non-pulsating flow that can be used in many different pumping applications. The SEP pump is specially designed for abrasion resistance in tough pumping applications and can pump up to 60% solids. The SEP pump is also ideal for liquids with higher viscosities, or thickness, than water. The gentle pumping action of the SEP pump makes it great for pumping sheer sensitive fluids. The SEP pump is also used for pumping fluids with varying viscosities, for pumping against varying discharge pressures and for pumping applications requiring varying flows using a speed controller. Most commonly used for sludge and polymer at sewage treatment plants, feeding filters and filter presses, centrifuges, feeding oil water separation equipment, food pumping applications like honey, juice concentrate, grapes in wineries, crude oil, viscous chemicals, bilges on ships, coal water slurries and much more.
SEP Features
9 pump sizes immediately available from our inventory in cast iron and stainless steel
Shaft packing or mechanical shaft seals available, all standard with shaft wear sleeves
Flows up to 750 GPM, Discharge Pressures up to 350 PSI, Suction lift up to 28 feet
Fluid viscosities to 300,000 Centistokes, Temperatures to 302 degrees Fahrenheit
Cast Iron pumps have suction clean out/inspection ports
Lubricated and sealed universal joints for long life
SEP Design
The Shanley SEP Pump is a progressive cavity pump in 1 and 2 stage design. It's resilient and tested design is optimal for demanding pumping applications. It's ruggedized universal joints with wear bushings are sealed and lubricated from the pumped liquid to provide long service life. The SEP pump is available with equal wall stators for lower starting torque and higher discharge pressures.
Pivot Joint Design
The SEP Series pivot joint offers unique advantages while simple in design.
At both ends of the coupling rod, which connects the rotor and drive shaft, are heavy duty pivot points. Each pivot joint consists of coupling rod bushings (inside conical), two yoke bushings and a coupling rod pin. All of these parts are made of hardened steel. A retaining sleeve prevents radial movement of the assembly.
The complete pivot joint assemblies are encapsulated with oil, and sealed by means of an elastomeric cover sleeve which fits into labyrinths at each end of the assembly, and fixed in position by "band-it"® bands.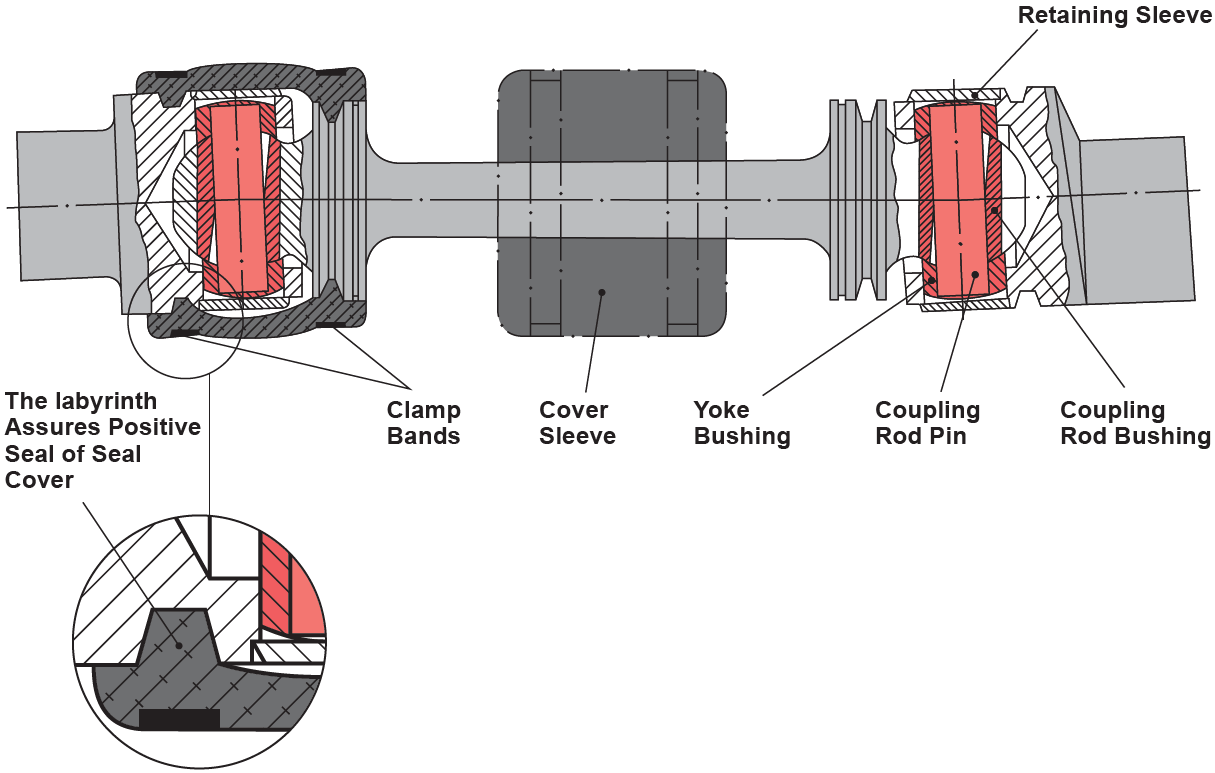 SEP Pump Video
SEP Series Pump Performance
SEP Curves
SEP Drawings
Shanley SEP Series Screw Pump Parts
We stock an entire inventory of replacement parts and upgrades for the SEP line of pumps and pump products. From seals and screws to entirely rebuilt systems.
If you are looking to repair your current pump system or even rebuild your current one, contact us today and ask for one of our factory trained engineers at 847-439-9200.
SEP Pump Industries & Applications
Municipal/Industrial
Applications
Transfer Service Sampling
Dewatering Sludge Transfer
Fluids
Effluent with & without solids
Slurry Media
Industrial
Fluids
Acids
Adhesives
Caustic Soda
Grout
Cement Slurry
Dye Liquor
Dye Baths
Flouring Plaster
Lime Slurry
Ink
Chemical
Applications
Loading /
Unloading Metering
Fluids
Cosmetics
Detergents
Glue
Lacquers
Hair Oil
Hand Washing
Cream
Paints
Shampoos
Waxes
Food Process & Production
Applications
Loading /
Unloading Metering
Fluids
Alcoholic Beverages
Apple Puree
Baby Food
Beer
Beet Sludge
Biscuit Dough
Citrus Fruit Masher
Cream Cheese
Edible Oil
Eggs, Raw
Fats
Fish Residues
Fruit & Berry Masher
Honey
Ice Cream
Lard
Meat Extract
Milk
Mustard
Tomato Paste
Vegetable Oil
Wine
Yeast
Chemical Process & Production