Custom Beverage and Brewing Industry Pump Carts
Shanley Pump and Equipment, Inc. has a complete line of professional-grade brewing pump equipment for a lifetime of service at your facility, from portable brewery pump carts to permanently installed pumps and brew master solutions.
Not all Brewery or Beverage Transfer Pump Carts are built the same. Not every brewing application can be covered by the same pump cart setup. When there are times where you require a more powerful pump, pump motor or other piece of electronics that will help you perform your brew making job easier be sure to use Custom Brewery Pump Carts from Shanley Pump and Equipment.
Our engineers will work with you to develop the brewery pumping solution you require, the one that you need and the one that is custom designed to your applications. We also offer two portable centrifugal brewery pump systems, The Usher and The Xchange putting a professional grade pump on your brewery transfer pump cart. We strive to have a pumping solution for every budget!
We also offer the Justice Series of Progressive Cavity Hopper Pumps from Liberty Process Equipment mounted to custom carts for use in your Mash and Mash Tun removal processes.
Shanley also carries a full line of replacement parts for brewery pumps such as CIP clamps, Seals, and impellers to keep you downtime low. If you don't see what you may need on our site please feel free to contact one of our engineering staff at 847-439-9200 or email us with any question you may have.
Custom Beverage Pump Cart options can include but are not limited to:
Cable Holders
Hose Wraps
Electronic Metering Devices
Sanitary Pumping Setups and connections
Wheel Configurations
Cart Labeling / Instructions
Metric / Standard Sized Components
Motors
Proprietary or custom components
As you can see from the above, virtually everything is configurable with a Shanley Portable Brewery Cart. Why settle for other manufacturers when a fully customized brewery pump option is readily available to you in the same timeframe?
Click here to download our faxable Pump Cart Request form.
If you have any questions about our services, please feel free to call us at 847-439-9200 or send us an email! We look forward to hearing from you.
Custom Brewery Pump Cart? No Problem!
For the majority of Brewery's, our standard Usher and Xchange portable carts will fulfill all your requirements, however in the case of some, a custom brewery pumping cart will be required. If that is the case, our staff of engineers at Shanley Pump can help you get the perfect pumping system you need.
We begin with the Frame assembly. Pump Frames are available in either welded stainless steel or standard tubular steel. Custom painted enamel coatings in the color of your company's logo are available as well for a premium. If you would like for us to affix your logo sticker to the pump that can be done as well.
After the frame comes the Pump and controller units such as timers or flow control units. Let us know what you need to do and we'll put together the optimal package for a portable pumping system without a custom price.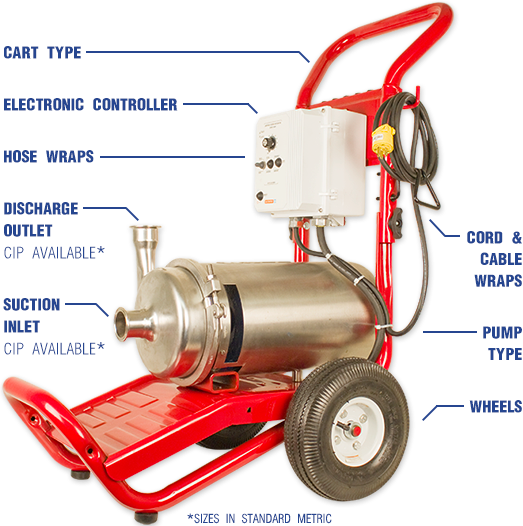 Custom Carts
Shanley has you covered for your brewery pump equipment needs from a small micro brewery startup to large breweries. Shanley Pump can use pumps or componentry you supply in the manufacturing of your cart. Simply give us the parts and tell us what you want!
We also have a great line of Mash, Mash Tun and Spent Grain pumps available. At Shanley Pump and Equipment, we are the Brewery Pump solution provider bringing you pumps for every stage pf the brewing process.