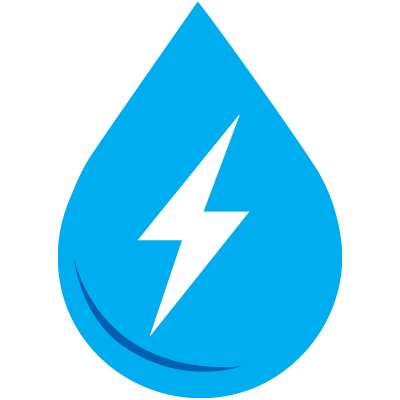 When electroplating multiple parts at once, there are three primary methods that can be used depending on the size and structure of your work piece. Shanley Pump offers GemmeCotti plastic magnetic drive centrifugal pumps for the surface finishing industry. These pumps are designed to handle caustic chemicals used during all three of the below electroplating processes. The magnetic driven impeller eliminates the need for a seal, which minimizes needed repairs and leakage, consequently protecting your employees from dangerous liquids used during the plating process.
Barrel Electroplating
Barrel electroplating is a method that utilizes a polypropylene barrel containing center bars that conduct an electrical current. The barrel is filled with workpieces to be electroplated, then immersed in an electrolytic solution. The barrel is then slowly rotated which causes the workpieces to tumble within the barrel, resulting in a uniform finish.
Pros
The biggest advantage to barrel electroplating is that an increase in number of parts does not equate to more labor as long as it fits in the barrel; this also equates to a lower cost. Barrel electroplating handles variety very well as the same barrel is used for various parts as long as they fit within the barrel. The versatility of the barrel allows for a far less overall space requirement in the shop as opposed to rack and electroless plating.
Cons
Barrel electroplating requires a low current; this causes the process to take a bit longer than its counterparts. The other drawback to barrel electroplating is not all parts are viable; for example, parts that are too delicate to withstand the tumbling motion or that are too large to fit within the barrel.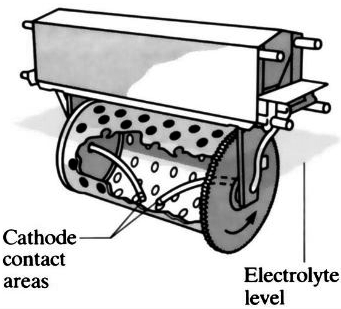 Rack Electroplating
Rack electroplating is a method that utilizes hanging the parts on a metal rack. Wires pins and screws are used to transfer electrical current to the parts. Once all the parts are hung on the rack, the rack is dipped into the electrolytic solution.
Pros
Rack electroplating can handle workpieces of any shape or size, regardless of fragility. Because there is no tumbling motion with rack method, workpieces come out completely scratch free with a uniform finish.
Cons
Rack electroplating comes with a high equipment cost, as well as a high labor cost due to the time required to manually hang each workpiece on the rack. Additionally, custom racks may need to be made for a specific work piece, conversely to barrel plating where one barrel works for anything that fits within.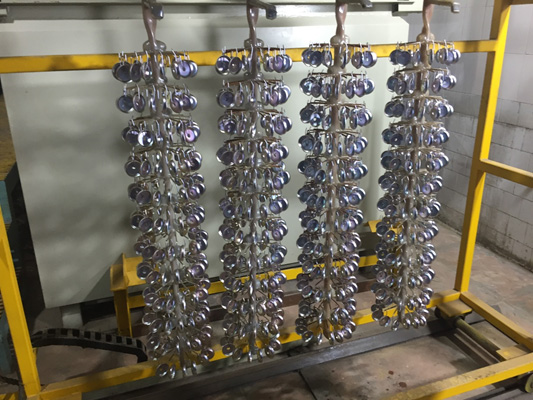 Electroless Plating
While both barrel and rack electroplating utilize electrodeposition, electroless plating utilizes autocatalytic conversion; meaning the workpiece is covered in a base material through chemical reaction. During electroless plating, the workpiece is placed in a bath with a special solution designed for electroless plating. After a period of time the workpiece is removed with its new coating.
Pros
The biggest advantage electroless plating offers is that a workpiece does not need to consist of a conductive material, which opens the door to coating a much larger variety of materials, such as plastics. Electroless also offers the most uniform coating of the three options, while also being the most durable.
Cons
Unlike rack and barrel electroplating, electroless plating has a limited bath life, which means the solution will eventually run out of metal ions and will need to be constantly monitored and replaced. Electroless plating is also more expensive than both other options of electroplating.