Introduction to Machine Coolant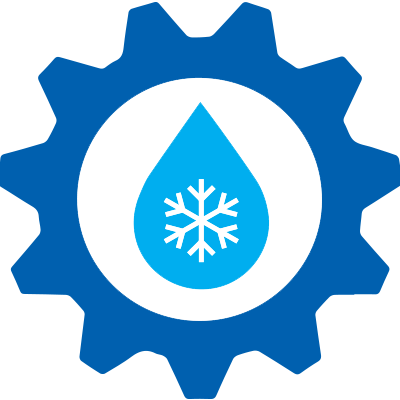 Machine coolants are composed of special blends of: water, chemical additives, and lubricants formulated to meet the demands of the metalworking industry. There are several types of coolants used within the industry, each offering various advantages and disadvantages over one another leading machine warehouse managers to choose which type of coolant will best match the work their shop or individual machine does.
---
Types of Machine Coolant
Soluble Oils
Soluble oils, also referred to emulsions or water-soluble oils) are typically made of 60-90% petroleum or mineral oil and other additives. They come as concentrates that are mixed with water to form the coolant that is used. When mixed the oil becomes suspended within the water creating an opaque milky appearance due to the mixture refracting light.
Advantages
Soluble oils offer both good cooling and lubrication, while leaving a protective oil film on moving components of the machine tools which helps avoid wear. They are known as the "Jack of all trades" when it comes to their use because they are able to handle all cutting operations from light to heavy duty.
Disadvantages
Because soluble oils are mixed with water, at improper concentration they can create rust or cause bacterial issues. Maintenance costs to properly maintain soluble oils can be relatively high. At high speeds soluble oils can mist, which creates slip and inhalation hazards within the workplace.
---
Straight Oils
Straight oils contain 0% water and 100% petroleum or mineral oil, often with additives such as: wetting agents, sulfur, chlorine, or phosphorous compounds to improve the oils wettability; its ability to coat the cutting tool and work piece.
Advantages
Straight oils offer great lubricity and rust protection; this makes them a common choice for difficult to cut metals, such as stainless steels and superalloys, which are commonly used in aerospace industries that require high-quality surface finish. They are quite easy to maintain, and are resistant to bacteria growth, preventing rancidity. The lubricity and rust protection helps to extend tool life.
Disadvantages
On the cooling spectrum, straight oils tend to be on the higher side of cost. Additionally, they perform poorly at high temperature and speed applications due to their mediocre heat dissipating properties and increased fire risk. Straight oils tend to leave an oil film on the work piece, which requires cleaning solvents to remove.
---
Synthetics
Synthetic coolants do not contain any petroleum or mineral oil, instead they are produced using chemical lubricants and rust inhibitors as a concentrate to be mixed with water.
Advantages
Synthetics are resistant to bacterial growth and are mostly nonflammable. They offer corrosion resistance and excellent cooling capabilities. Synthetic coolant easily separates from work pieces, which allows easy cleaning of finished parts while reducing the amount of fluid lost during operation.
Disadvantages
Synthetics tend to foam and cause fine mists during high speed operations, which can lead to increased machine wear and inhalant hazards and dermatitis (skin irritation). Synthetics are susceptible to emulsifying tramp oils, which will leave a gummy residue on the machining system.
---
Semi-synthetics
Semi-synthetics are a hybrid of soluble oils and synthetics containing usually 2-30% petroleum or mineral oil as a water-dilatable concentrate. Semi-synthetic concentrate already contains water; therefore, the emulsification of the oil and water occurs during production of the concentrate, rather than during the mixing of the concentrate and water.
Advantages
Semi-synthetics, just like soluble oils, are able to handle most cutting operations from light to heavy duty, but with the perk of being easier to maintain. They generate low mists and are resistant to bacterial growth, which aids in preventing a hazardous work environment.
Disadvantages
Semi-synthetics tend to foam easier than other coolants, which can cause premature wear to machine parts. another downside to semi-synthetics is a susceptibility of leaving hard water scum deposits on the workpiece, but this can be avoided by using reverse osmosis to soften the water used for the mixture.
How Shanley Can Help
Shanley Pump offers a variety of pumps that can assist machine shops in their day to day operations. Give us a call today, to see how Shanley can assist you with your difficult pump applications.