How to Extend Your Coolants Life Cycle
What is Machine Coolant?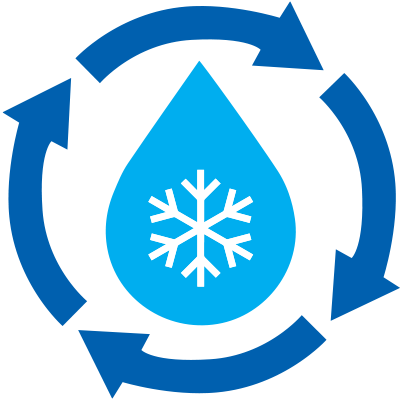 Coolants are a complex formulation of emulsions with the main purpose of both cooling and lubricating the working point of the machining process; additionally, the coolant aids in removal of chips and fine metal particles produced during the machining process. The high cost of constantly replacing and disposing of old coolant can be improved to produce significant savings if the life cycle of coolant is extended. Coolant is recirculated in a pressurized circuit through pumps, pipes, and storage which will all require monitoring to fully extend the coolant's life cycle.
Key Checks to Maximize Your Coolant's Life Cycle
---
Concentration level
Most water-based coolants have a working solution of approximately 10%; therefore, the product is typically 90% water. As machine operation transpires during working hours, evaporation and carry-off constantly occur, and machine sumps will need to be topped-off. Using a refractometer, such as the one pictured, to ensure coolant is added at proper concentrations will ensure avoidance of the following issues: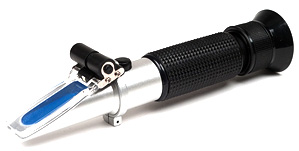 Low Concentration
Too low of concentration can result in downtimes, tool breaks, poor finishes on parts, corrosion and rusting on machines, and bacterial growth. When the coolant has a low concentration, adding coolant with a higher concentration will correct the sump's concentration level. It is important to never add pure product to the tank as it can cause issues with emulsions which will generate foam when used, potentially causing over heating problems due to the foams inability to properly remove heat from the work piece.
High Concentration
Too high of concentration can leave oily residue on parts, cause skin irritation to operators, and reduce heat transfer on the machine. It is important to never add pure water as it will also affect emulsions and can cause corrosion to parts; mixing is always key!
---
PH level
It is important to monitor the PH level of the coolant daily, and to keep a record of the results. Monitoring over time can reveal trends such as consistently low PH, which is a key indicator that bacterial contamination is occurring. The most reliable system for monitoring is an electronic PH-meter; using paper strips is not recommended.
---
Presence of Tramp Oils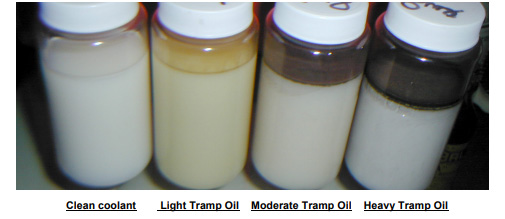 As coolant circulates through the system, hydraulic oils occasionally leak into the machine coolant, these foreign oils are known as tramp oils. These oils act as food for bacteria, and also prevent aeriation of the coolant, further promoting bacterial growth. Tramp oils can also cause incorrect refractometer readings, which can affect concentration levels. Tramp oils should be removed from coolant as often as possible. Shanley pump offers Edur DAF pumps which can be used to help separate tramp oils from coolant. The image shows various levels of tramp oil contamination within coolant.
---
Presence of Metal fines and chips
As parts are machined they generate chips and fine metal particles which are inevitably mixed into the coolant. It is key to filter out and remove chips as they also provide a food for bacteria; as well as, cause damage to pumps and other equipment within the circulation system. The image shows examples of fine metal particles.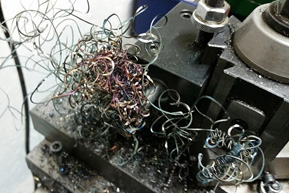 ---
How Shanley Can Help
Shanley Pump offers a variety of pumps that can assist machine shops in their day to day operations, keeping all machines clean and running. Give us a call today, to see how Shanley can assist you with your difficult pump applications.